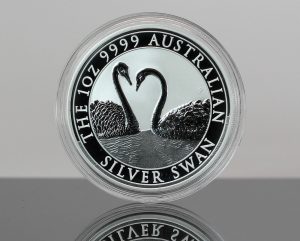 October sales of Australian bullion surged to an all-time high for gold products and stayed strong for silver products, according to the latest figures from The Perth Mint of Australia.
The Mint's bullion gains measured against divided previous metals prices with gold falling for the seventh straight month and silver rising for a second month in a row after having dropped for five straight. In LBMA pricing for October, gold lost 2% while silver rose 0.8%.
Perth Mint Gold Bullion Sales in October 2022
Elevating for a fourth straight month, October sales of the Mint's gold coins and gold bars scored a monthly record of 183,102 ounces, posting increases of 106.8% from September and 206.5% from October 2021.
Neil Vance, General Manager of Minted Products, noted that demand increased in late September and kept rising from there.
"The spike continued throughout October, resulting in our best month on record for the number of ounces sold in coin and minted bar format," he said. "Demand from clients in the USA and Germany was incredibly strong," he added.
For some comparisons, now ranking second, third, and fourth highest in monthly gold sales are March 2021 at 130,730 ounces, February 2021 at 124,104 ounces, and March 2022 at 121,997 ounces.
In the longer haul, year-to-date gold sales at 942,031 ounces are 7.1% higher than the 879,509 ounces sold during the leading ten months of last year.
Perth Mint Silver Bullion Sales in October 2022
Perth Mint September sales of minted silver coins and silver bars climbed to 1,995,350 ounces, falling 22.7% from September when they ranked second best but jumping 47.6% from October 2021.
This year has been strong for the Mint's silver bullion with several exceptional sales months, including all-time monthly rankings of second in September at 2,579,941 ounces, third in July 2022 at 2,465,513 ounces, fourth in January 2022 at 2,387,165 ounces, and fifth in May 2022 at 2,217,582 ounces.
Perth Mint silver sales for the year so far at 20,226,098 ounces are 27.8% higher than the 15,827,790 ounces sold during the same period last year.
Perth Mint Gold and Silver Sales by Month
Below is a monthly summary of Perth Mint bullion sales from October 2021 to October 2022. The figures show monthly ounces of gold and silver shipped as minted products by The Perth Mint to wholesale and retail customers worldwide. It excludes sales of cast bars and other Group activities including sales of allocated/unallocated precious metal for storage by the Depository.
Perth Mint Bullion Sales (in troy ounces)
 
Silver
Gold
October 2022
1,995,350
183,102
September 2022
2,579,941
88,554
August 2022
1,655,334
84,976
July 2022
2,465,513
79,305
June 2022
1,523,765
65,281
May 2022
2,217,582
98,515
April 2022
2,119,491
80,941
March 2022
1,649,634
121,997
February 2022
1,632,323
72,651
January 2022
2,387,165
66,709
December 2021
1,733,293
54,861
November 2021
1,530,598
115,872
October 2021
1,352,275
59,750