While we wait for today's 2pm SLOOS release, where the latest C&I credit standards are expected to measure at a level tighter than the dot-com crisis (if still less extreme than during the financial crisis or the height of the pandemic… at least until a few more banks collapse), earlier today the NY Fed published the results of its April Survey of Consumer Expectations, which found that while inflation expectations at the one-year horizon decreased to 4.45% in April from the previous month's 4.75%, longer-dated inflation expectations – at both the three- and five-year horizons –  rose to 2.89% (from 2.78%) and 2.62% (from 2.54%), respectively.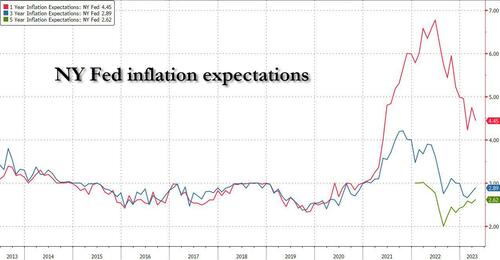 And while these are largely C-grade data points at best since they gyrate wildly month to month, here are the rest of the survey's findings:
Median home price growth expectations rose to 2.52% from 1.84%, highest reading since July of last year; increase more pronounced among respondents in the Midwest and Northeast Census regions, report notes.
Median household spending growth expectations fell to 5.22% from 5.72%, lowest since Sept. 2021.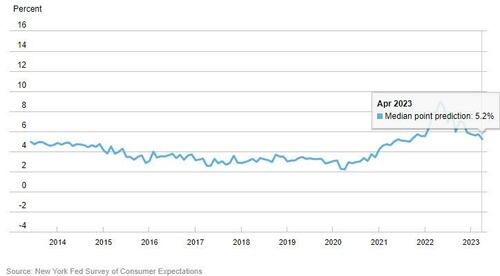 That may explain why respondents' expectations for applying for a new credit is near the highest in the past decade, at 12.0%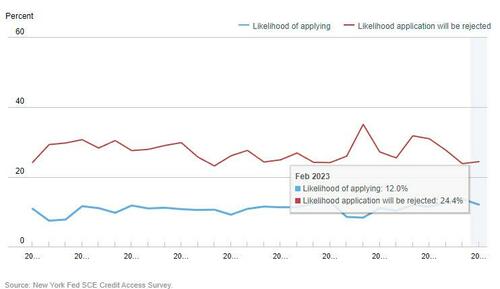 And yet, one look at the next chart shows that credit demand is already the lowest since Oct 2020, as the number of respondents who "applied and were" approved for credit dropped to just 33.8%, the lowest since 2020.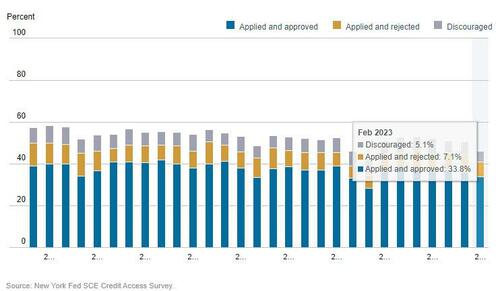 Over the next year consumers expect gasoline prices to rise 5.09%; food prices to rise 5.77%; medical costs to rise 9.29%; the price of a college education to rise 7.79%; rent prices to rise 9.17%.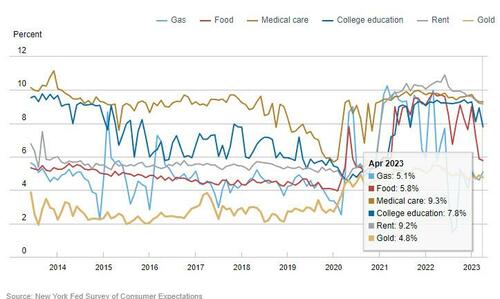 A smaller percentage of consumers, 10.60% vs 10.87% in prior month, expect to not be able to make minimum debt payment over the next three months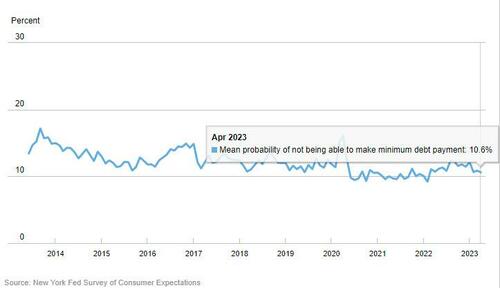 Finally, while the NY Fed surveys are traditionally wrong about most things, one place they are right this time is in their expectations for higher stock prices: with just 35.8% forecasting higher stock prices, or just off the lowest level in the past decade, few will be disappointed by what is coming.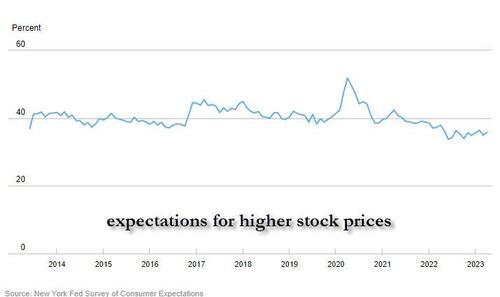 Loading…