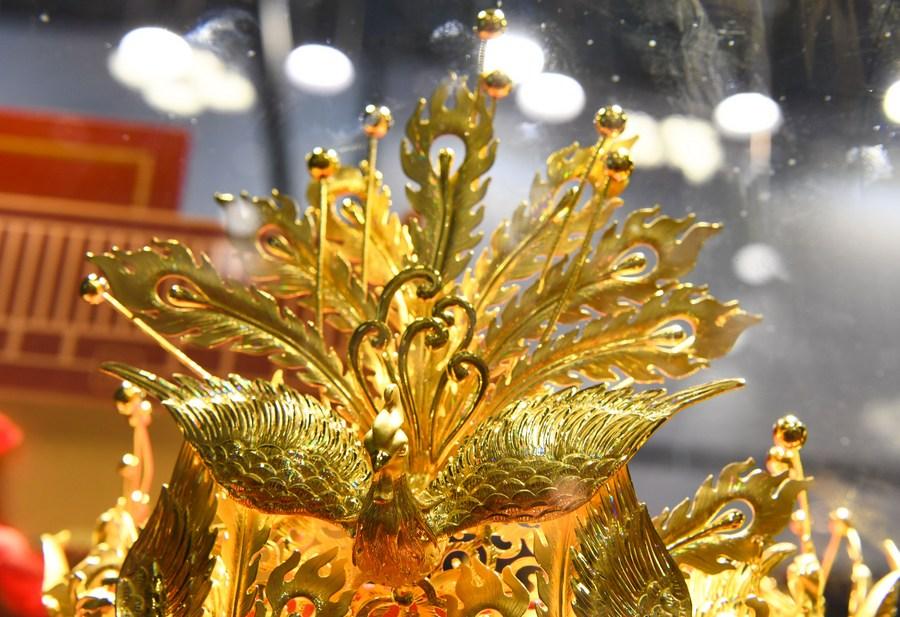 Photo taken on May 10, 2021 shows a piece of gold ornament on display during the first China International Consumer Products Expo in Haikou, capital of south China's Hainan Province. [Photo/Xinhua]
China produced 271.248 tonnes of gold in the first nine months of 2023, up 1.261 tonnes or 0.47 percent compared with the same period last year, industry data showed Wednesday.
In the January-September period, gold consumption in China totaled 835.07 tonnes, up 7.32 percent year on year, according to the data released by China Gold Association (CGA).
Specifically, consumption of gold jewelry in the Chinese market rose 5.72 percent year on year to 552.04 tonnes, while that of gold bars and coins surged 15.98 percent from the same period in 2022 to 222.37 tonnes.
During the period, consumption of gold for industrial and other use fell 5.53 percent from a year earlier to 60.66 tonnes, CGA data showed.
In the third quarter alone, holdings of gold-backed exchange-traded funds (ETFs) in China added 9.53 tonnes.
The figure brought total holdings of gold ETFs in the Chinese market to about 59.69 tonnes by the end of September, according to the association.